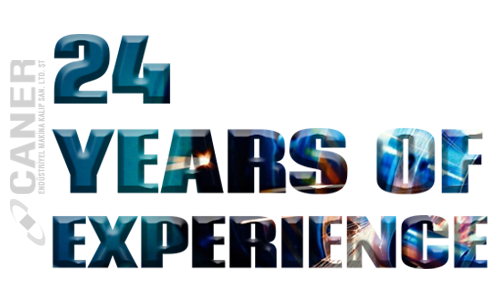 To maintain and strengthen our national position in precision processing in the sectors we serve, as well as to find our place in the international market share and to be accepted, to provide customer satisfaction with the best quality, on time delivery and competitive prices, which are our basic values, with the philosophy of understanding that quality and manufacturing are intertwined; to carry out production using technology; to create a Quality Management System aiming at continuous improvement; to carry out our activities in accordance with the law, legislation conditions, national and international standards in force and in line with the needs and expectations of all our stakeholders, and by increasing harmony and cooperation among all personnel, taking into account the happiness of our employees, is to achieve its goals and objectives with the awareness of authority and responsibility.
Caner Makina Kalıp, which has obtained the documents and approvals of all the necessary standards for customer satisfaction and continuity and continues it successfully.
Along with ISO 9001: 2008 KYS Certification, it also keeps the production area under control with the ERP System.